Cheek/Chin augmentation Newport Beach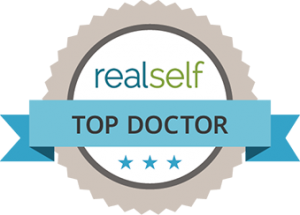 Cheek and chin augmentation are commonly performed facial procedures designed to rejuvenate or reconstruct the contours of your face. You may have been born with a receded chin requiring augmentation for a more balanced facial profile. Loss of volume in the cheeks may occur as you age and cheek augmentation will restore the youthful volume. Dr. Raymond Lee is an award-winning facial plastic surgeon who has provided numerous women and men with amazing results from their chin or cheek augmentation in Newport Beach.
THE BENEFITS OF FACIAL IMPLANTS
There are a wide range of sizes and styles, dependent upon the patient's desired outcome and natural features. If you have a weak or receding chin or wish to improve the fullness of your cheeks, augmentation provides natural looking results by creating balance to the face.
Also called facial implants, they can be used to define and change your chin or jaw, create sculpted cheekbones or correct facial asymmetry or deformities resulting from injury or congenital conditions.
*Individual results may vary
View Chin Augmentation Gallery
Chin Augmentation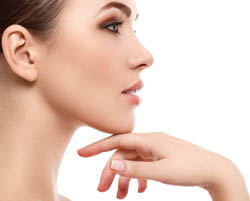 A receded chin can easily be improved with a chin implant. This procedure can be performed alone or combined with facelift, necklift, or liposuction. A chin implant will also improve the pre-jowl sulcus.
A small incision is made under the chin and an appropriately sized medical grade implant is inserted. There is some moderate swelling and recover is about 7-9 days Both patients and surgeons are highly satisfied with this procedure. The chin implant allows for facial harmony. Experience Beauty with Chin Augmentation in Newport Beach and Orange County.
"
I had always wanted a chin implant but didn't want just anyone to be my surgeon. It had been seven months of research and consultations and I still hadn't found the perfect surgeon. I was ready to give up until I met Dr. Lee. […] He didn't rush me, he didn't take my desire for surgery and try and sell me on other unnecessary procedures, he did exactly as I asked, and he did it very well! I am so happy with my chin implant! It looks so natural and I can't even feel it's there. My confidence level has definitely raised!
Read More Testimonials
Cheek Augmentation
High cheekbones are a sign of beauty. As we age we lose the volume in the cheeks and the mid face becomes deflated. Also, patients may have suffered trauma or congenital defects requiring cheek augmentation.
Cheek implants can easily restore the loss of volume and give more definition and beauty to the face. A small incision is made inside the mouth hidden in the upper gumline.
An appropriately sized medical-grade implant is inserted, and the incision is closed with dissolvable sutures. There is no external visible scar.
THE COST OF CHIN/CHEEK AUGMENTATION
Cost will vary spending on the type of procedure being performed and other factors. During your consultation at Faceology MD, Dr. Lee can go over the details of your cheek augmentation in Newport Beach including the expected cost and the payment options we accept. Financing options are available.
THE EXPERTISE OF DR. LEE
To ensure your safety and the quality of your results, your chin or cheek augmentation should be performed by an experienced and skilled facial plastic surgeon. Dr. Raymond Lee is an award-winning board-certified facial plastic surgeon with over 11 years of experience, He can provide you with the personalized care and natural-looking results you want.
LEARN MORE WITH A CONSULTATION
Cheek and chin augmentation are able to produce natural-looking and highly satisfying results. Learn more from Dr. Raymond Lee – contact our office today to schedule a consultation for your chin augmentation and cheek augmentation in Newport Beach.
. Experience Beauty with Cheek Augmentation in Newport Beach and Orange County.