Mini-lift Newport Beach
A Mini-Lift is a common plastic-surgery procedure that is generally performed on those who are not quite ready for a full facelift. The goal of the operation is to tighten and tone loose skin in the lower face. Also known as a limited-incision facelift, the Mini-Lift rejuvenates the patient's skin and smooths out wrinkles or other sections of the skin that have been affected by aging.
This procedure is not just for women, as more and more men are seeking a more refreshed look. Most often, the Mini-Lift facelift is chosen to restore youth to the patient's face around the mouth and along the jawline. It is effective in treating early jowling.
*Individual results may vary
*Individual results may vary
View Mini-Lift Gallery
Good Candidates for a Mini-Lift
Optimal candidates for a Mini-Lift have facial laxity specifically in their lower face. It is less invasive than a full facelift, so it provides less downtime, making it perfect for those with a busy schedule.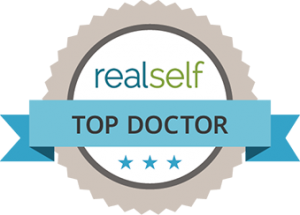 For patients with deep wrinkles and excess skin on their mid and lower faces, The FACEology LIFT may be a better facelift choice, as it is a more comprehensive option.
Smokers are not ideal for the Mini-Lift, since smoking negatively affects skin health. Smokers could experience extended recovery times and an increased likelihood of complications. If you are a smoker and are considering this procedure, you will need to quit several weeks before the surgery and will need to avoid smoking during recovery.
The Mini-Lift Consultation
Before you can schedule a Mini-Lift surgery, you will need to arrange a consultation with Dr. Lee. This consultation will be used to evaluate whether or not this facial plastic-surgery procedure is suitable for achieving your aesthetic goals.
Dr. Lee will perform an examination of your lower face in order to understand the exact issues you are looking to correct. The two of you will go over your complete medical history, which will include things like allergies, past procedures, and any medications and supplements you are currently taking.
Once it has been determined that this facelift technique is right for you, Dr. Lee will create a surgical plan, and a date can be set for your Mini-Lift.
"
After consulting with 5 other surgeons (including very well-known celebrity doctors) for a mini lift, I chose Dr. Lee. He made me feel the most comfortable, and I didn't feel like I was being 'sold.' He was honest and confident about the result he could achieve. He surpassed my expectations. I was nervous that I would look too different and that I would have visible scars. After the very smooth procedure, I looked like myself, only younger. I was able to be seen in public with minimal bruising and swelling in 3 days. My scars are barely visible and it has been less than 2 months. Really precise, expert work. I would highly recommend Dr. Lee!
*Individual results may vary
The Mini-Lift Procedure
This procedure typically takes about an hour and is commonly done under local anesthesia. Once the anesthesia has taken effect, Dr. Lee creates precise incisions. These are much smaller than the incision used in a traditional facelift and are typically made around the front of the ear and earlobe.
These incisions allow Dr. Lee to elevate the underlying tissues, reducing sagging. Finally, the incisions are closed with the help of surgical sutures. Once the Mini-Lift is completed, the face looks younger and rejuvenated.
Recovery and Healing After a Mini-Lift
With only the need for local anesthesia during a Mini-Lift, downtime and risk are greatly minimized. The recovery process varies depending on the patient, but most recover and are back to work within a week.
Swelling and minor bruising are to be expected after the procedure, but these are short-term side effects and will subside shortly. Ice packs can be used during the recovery process to aid in reduction of these issues.
Contact Us to Schedule a Consultation
If you would like to enjoy the benefits of a Mini-Lift procedure, contact the office of Dr. Raymond Lee and set up a consultation.
Experience Beauty with a Mini-Lift in Newport Beach and Orange County.